New Mitsubishi Laser Cutter with Fiber Laser Technology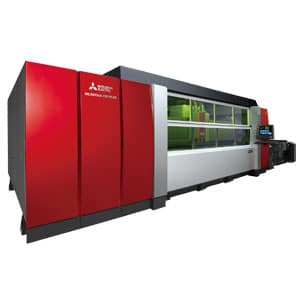 When you partner with Tallmadge Spinning & Metal, you can be sure you'll get high quality parts delivered on schedule and within your budget. We pride ourselves on being reliable, offering the best customer service, and producing high quality, error-free parts, and we can do these things even better with the capabilities that come along with a new laser cutting machine: the Mitsubishi 3015 EX-F Plus 8.0kw Zoom (M800) Fiber Laser.
Features and Capabilities of the Mitsubishi 3015 EX-F Plus 8.0kw Zoom (M800) Fiber Laser
8.0kw Fiber Laser
60" x 120" Table with Pallet Changer
Space Saving Load / Unload System
1" Mild Steel Capability
The most notable feature of this laser cutter is the fiber laser technology, which allows for faster cutting times. The Zoom head is also unique in that it utilizes beam mode manipulation to process a full range of materials automatically without any setup. The design includes an Auto Focus Focal Range from 3.75 to 10 inches, HPP Pierce Technology and is backed by the industry's best magnetic breakaway Fiber head.
Like our other laser cutting machines, this one is also supported by a dri-cam system which converts an AutoCAD file directly to a laser program. This setup enables us to drastically reduce programming time and provide more accurate renditions of the part.
Partner with Us on Your Next Project to Reduce Costs and Production Time
Our engineers can work with you to remanufacture a specific part you need and get it down to a lower cost, which impacts your entire project budget—in a great way! Beyond laser cutting, we also do metal fabrication, spinning, welding and stamping all in house to reduce production time on our end and yours. When you get your parts faster—and without error—you can produce your end product faster, too.
Contact us to get started on your project!
Request a Quote to Get Started
From research and development to final production, Tallmadge Spinning & Metal is your partner for cost-effective and superior metal products. Request a quote today to get started.
REQUEST A QUOTE TODAY TO GET STARTED