What are the Differences Between Galvanized and Stainless Steel?
When considering the various types of steel available for your project, it's a simple question: galvanized or stainless? Here we discuss these two different types of steel and which are best for different applications.
Galvanized Steel: The All-Around Approach
Similar to untreated steel in price and strength, the process of galvanization simply encases steel in a layer of zinc. This helps prevent the steel from rusting over time by providing a more reactive element to bind nearby oxygen atoms. The zinc protects the steel from the elements, making it an excellent option for outdoor metals. Unfortunately, saltwater will quickly eat through the zinc layer and the steel underneath. Otherwise, even scratches in the zinc coating may still protect the underlying metal by binding reactive elements before they can reach it.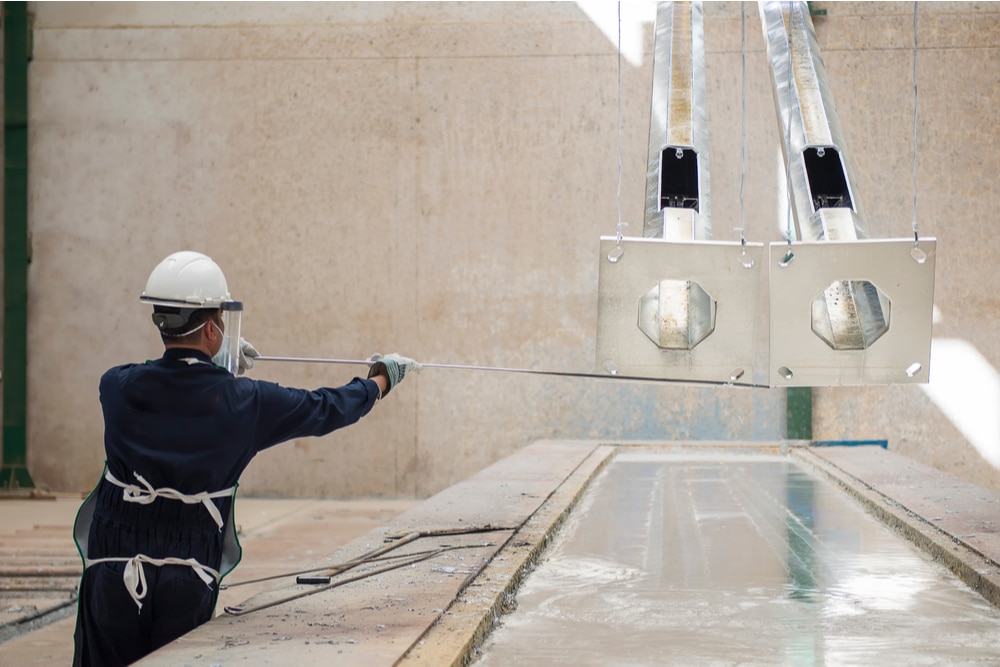 Galvanized steel is mainly produced by two methods, electro-galvanizing and hot dipping. The first submerges steel in a zinc electrolyte solution under an electric current, while the second dips steel into molten zinc. The latter is more common for industrial production and is usually performed after the base metal has been formed into its final shape. This is because manipulation of galvanized steel can compromise its protective shell, in which case galvanization would have to be repeated.
Stainless Steel: The All-In Approach
Unlike the protective coating of galvanized steel, stainless is actually a different compound altogether. Generally, by adding 10% or more of elemental chromium, typically derived from chromite, molten steel forms an exceptionally strong alloy that resists rusting even to salt water.
It does get more complicated though, as there are five main families of stainless steel including ferritic, duplex, martensitic, austenitic, and precipitation hardening. Working with this tough metal is difficult, and requires specialized welding practices such as temperature control and careful selection of filler materials. Due to the nature of stainless steel as an alloy, nicks and scratches do not affect its ability to resist degradation, as the chromium added disperses itself throughout the metal for a fairly even distribution and therefore resilience.
Which to Ditch for Strength and Resilience?
Stainless steel is the clear metal of choice in terms of mechanical properties. It is an unusually strong formulation that provides superior resistance to deterioration, with one notable exception. Chlorinated water reacts strongly to stainless steel, making galvanized steel the optimal choice in this application. Also worth mentioning, high friction applications run the risk of welding stainless steel if allowed to reach high enough temperatures. Even so, the qualities of stainless steel make it the more suitable option for most applications, except for the prohibitive factor of price.
Practical Possibilities Considering Cost
In choosing between untreated and galvanized steel, the price difference is only a few cents per pound for a significantly more resilient material. In contrast, stainless steel costs four to five times more per pound, reducing its practical applications. Some of the more expensive varieties also incorporate rare elements such as niobium. Such alloys are typically reserved for exceptional applications like those of aerospace engineering, and naturally are accompanied by a premium price tag. For this reason, galvanized steel is an excellent all-around choice for most applications, while stainless steel is typically reserved for specialized circumstances in which its unique properties are required.
Applications Employing Galvanized Steel
Galvanized steel enjoys an almost negligible cost increase over untreated steel when compared to stainless steel, and sees an extensive range of applications as a result. Due to its resistance to chlorinated water, it is also a superior choice in domestic applications. Some of these include:
Screws, hinges, gaskets, fasteners
Nuts, bolts, nails
Metal roofing
Structural beams
Pipes and fittings in houses
Chain Link and ornamental fencing
Washing machines, dishwashers
Automotive components
Railings
Traffic signs
Applications Employing Stainless Steel
Stainless steel as a significantly more expensive option is typically reserved for use where exceptional strength and resilience are required. Some of these include:
Skyscrapers
Bridges
Monuments and sculptures
Railways
Aerospace components
Automotive components
Food processing equipment
Pharmaceutical equipment
Kitchen appliances
Kitchen utensils
Pipelines
Machinery
Tools
Talk to Us About Your Material Options
Have something in mind but not sure what kind of metal is best? Talk to us about your project today to get started!
Request a Quote to Get Started
From research and development to final production, Tallmadge Spinning & Metal is your partner for cost-effective and superior metal products. Request a quote today to get started.
REQUEST A QUOTE TODAY TO GET STARTED